Support a UW tuition cut!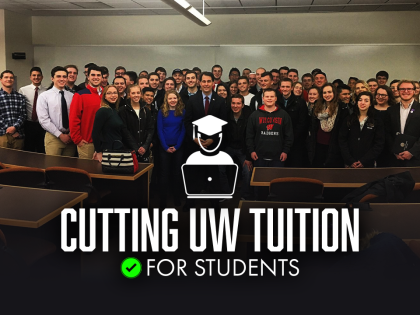 Governor Walker is fighting to cut UW tuition by 5 percent for hardworking families and students, and put more money into our universities.
This 5 percent cut would help students and families across the state afford a quality education. And the $140 million Scott Walker wants to put into our universities means that education will get even better.
Our UW schools help build our workforce, grow our economy, drive innovation, and attract talent to Wisconsin. Because of reforms that fixed our budget, we can afford to do more to meet these goals.
If you agree that the cost of college is too high, and that we need a strong UW System for the future of our state, let your legislator know: Wisconsin students deserve a tuition cut and more investment!
First, Enter Your Zip Code