Fight for lower taxes!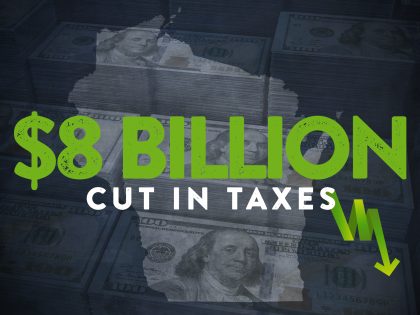 Governor Walker has already cut taxes by some $5 billion. Now, he's fighting for hundreds of millions of dollars in additional tax cuts to put even more money back in your pocket and hold government accountable.
Governor Walker's budget cuts taxes and fees by nearly $600 million. Under his budget, property taxes will be lower in 2018 than they were in 2010 – and cumulative tax cuts will reach $8 billion by the end of 2018.
Wisconsin's budget reforms have put us in a position to balance the budget, cut taxes, and help put Wisconsin's economy back on track. But we're just getting started.
If you agree that government should return more money to the taxpayers and working families, be sure to let your legislators know: Now is the time to cut taxes, not raise them!
First, Enter Your Zip Code