Tell Your State Legislator to Support Gov. Walker's Budget!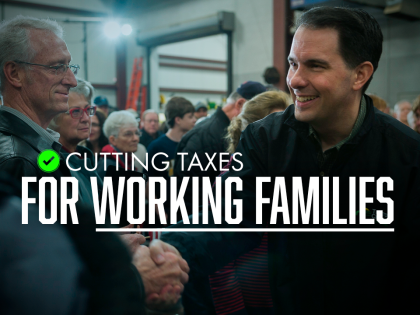 Governor Walker introduced bold new reforms with his state budget proposal, including significant tax cuts and investments in education that will help Wisconsin's working families get ahead.
These reforms are made possible by the "Reform Dividend" – the benefits of the conservative reforms that put our budget and economy back on track. That's why we're working and winning for Wisconsin, and ready to do more.
Make clear you stand with Governor Walker on:
Cutting Taxes – Governor Walker has already cut taxes by some $5 billion, and this latest budget cuts taxes by nearly $600 million. In fact, with the reductions included in our budget, the cumulative impact of our tax cuts will be $8 billion at the end of 2018. That's real money for hard-working families.
Putting More Money in the Classroom – Under Governor Walker's budget, there will be more money in the classroom than ever before, with K-12 investment at a historic, all-time high.
First, Enter Your Zip Code